bit Play HD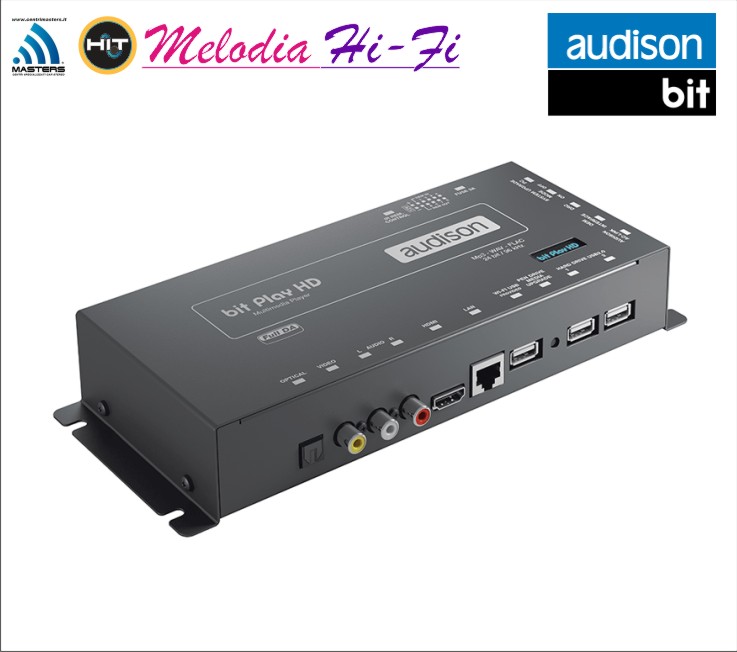 bit Play HD
SKU :
Lettore multimediale
Brand : bit audison
Esiste anche la versione con ssd da 240GB già installato €629,00 comunque in tutti si può aggiungere in un secondo tempo, la scgla è bit Play HD SSD
Accessories
€139,00
€119,00
DRC MP - Digital Remote Control Multimedia Play OPTIONAL
The new Audison DRC MP (Digital Remote Control Multimedia Play) is compatible with all the Audison electronics featuring AC Link bus. Its slim profile along with the holder supplied with it eases the installation in the best position inside the car. Thanks to the new Joystick, "Rubber Touch" finished for best control of the movements along the four direction axes, the 'DRC Settings' menu can be adjusted and navigation is also possible through the 'Navy Command' function if the system features an Audison bit Play HD with video output connected to a monitor.
bit Play HD
HI-RESOLUTION IN-CAR MEDIA PLAYER
Wi-Fi high resolution audio streaming and playlist manageable from your Android or Apple device through dedicated App. Reproduction of 24 bit / 96 kHz FLAC files taking audio far beyond the CD standards. Digital output to build an Audison Full DA high resolution system and HDMI output. SSD unit enclosed in a slot with mechanically damped housing for a smooth in-car music reproduction. These and many more are the features which make bit Play HD the object of desire of any car audio enthusiast.
*Supplied with the product in the bit Play HD SSD version
Docs
Links
Features
Audison bit Play HD App
The Audison bit Play HD App is an application providing the ability to control the Audison bit Play HD multimedia player through the WI-FI network of your smartphone or tablet. Once you install the bit Play HD player in your car, this App will let you listen to the music stored in your smartphone or tablet directly through your car audio system. Or, you can control the bit Play HD player to listen to music stored inside of it through its internal SSD or through the USB mass storage devices connected to the USB plugs. Through the Audison bit Play HD App as well as the Apps using the DLNA protocol you can select and start playing a musical track, adjust volume and manage playback controls. Only with the Audison bit Play HD App you can transfer files between the USB mass storage devices or within the internal SSD.
Awards
| | |
| --- | --- |
| Dimension (L x W x H) | 0 x 0 x 0 |
| Weight | 0 |